My first visit to a race track as an actual apprentice race car!
The last of my stickers was added at about 01H00 in the morning. I heard their alarm go of at 04H00, heard the shower water open and their faces appeared at about 04H30. My big younger sister Cortina was reversed and positioned in the street with a enormous trailer behind her.
Then it was my turn. I was driven out trying to be as quiet as possible and aligned behind the trailer. Hell, that thing was so big I was wondering what was going to park next to me! Then forward and up guided by my young master. That was scary moments!!! At last a relief, I opened my eyes and I was up, hooray!
They then proceeded to tie me down, I could not move.
After a scary drive to the Kyalami race track we arrived quite early in the morning.
They promptly removed the straps and proceeded removing me from the trailer, yet another scary few minutes. When safely on the ground the days provisions was moved from the Cortina as I was going to be the transport of the day!
Thomas Falkiner was the first to pay me a visit as he arrived and parked a few meters away. Boy, did I attract attention the whole day. Other known visitors included Kevin Taylor, Gary Stacey, Ryan Ludick …… They are all impressed with my good looks if I have to say so myself.
I was summoned to the pits for a "provisional" "Historic Technical Passport" inspection. A few "minor" issues outstanding, but ready in preparations done to date. I felt so proud! This left a smile on my owners faces! It seems their work and planning has paid off!
Back to their photography spot of the day. By the way some of their photo's can be viewed here and here.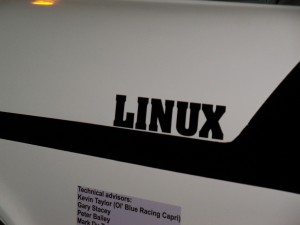 Then the dreaded time arrived of reloading and one of my biggest fears came true! My front wheels was already on the trailer and then the right rear ramp somehow un-hooked from the trailer. Ouch! I fell with my body on the trailer and my left rear shock absorber broke in half.
Luckily there are plenty helping hands around and they promptly lifted me onto the trailer.
The final dismount for the day went without incident as my owners made a plan to tie down the ramps. I am now standing in my privileged parking spot at home, waiting for the next action!